August 29th, 2009
Amazon Reference Books
For details an books available from Amazon on the various aspects of Sleep Apnea check out the links below that go to Amazon Books.
These links has been provided as a resource for obtaining additional information on Sleep Apnea and sleep disorders. No representation is made or implied as to the reliability or otherwise of the material.
Sleep Apnea Information
From CPAP to Oral Appliance Therapy, and the Truth Behind What Actually Works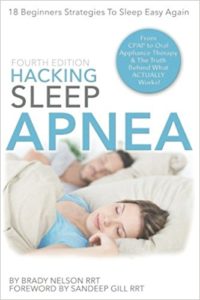 You've heard it all before, we need to get a quality night sleep of 6-8 hours to function optimally (about a 3rd of our lives). If you have been diagnosed with sleep apnea, you need to get treated…FAST.
This is Where This Book Will Help You or a Loved One Immensely!
We'll go over the EXACT treatment options available, from LEAST invasive to MOST invasive. Along the way we'll debunk the options that actually work (and the ones that are crap). We'll also cover some of the future treatments only in this second edition.
While it is always of utmost importance to seek advice of your doctor, this book will help you in understanding some of those treatment options. As well as perhaps what to ask at your next doctor or sleep clinic visit.
Learn To Breathe & Sleep Easy Again.
You Need To Start Hacking Sleep Apnea NOW!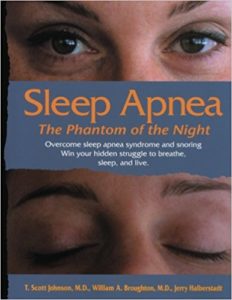 About this book
Do you snore loudly each night?
Do you have frequent pauses in breathing while you sleep (you stop breathing for 10 seconds or longer)?
Do you have headaches in the morning?
Are you very tired or sleepy during the day?
Do you fall asleep easily during the day?
If you answer "yes" to any question you may have sleep apnea. What are the possible dangers? How can you find help?
See the Introduction and Chapters 1–3 for a clear, accurate, in-depth explanation of this "Phantom of the Night," including sleep apnea, snoring, and other disorders of breathing during sleep.
The rest of the book can answer specific questions and solve problems as they arise.
What happens during the overnight sleep studies used to diagnose and treat sleep disorders? (Chapters 4–5)
How does treatment work? What can you do to get the most benefit? (Chapters 6–7)
How can you choose the best treatment? What can you do to improve your sleep? (Chapters 8–10)
Frequently Asked Questions (Chapter 11).
Children and adolescents can also have sleep problems (Chapter 12).
What is the scientific evidence? Who has sleep disorders? What are the causes? What harm is done? Does treatment work? (Chapter 13)
Amazon Customer Ratings:- 13 Reviews, 10 x 5Star, 2 x 4Star, 1 x 1Star
Comments made have included:
AWESOME!!!. – A week before my first sleep study, I got this book — and all I can say is "Thank God for the information in there." If you even suspect you have Sleep Apnea – this is the book for you! :- Julie Isham (Northern Illinois)
Encyclopedia of Sleep Apnea. – I have been diagnosed with sleep apnea and use CPAP. I purchased four books on the subject to gain as much insight as possible. This is without a doubt the most informative. I highly recommend this book:- Vincent S. Malinowski (Los Angeles)

Snoring and Sleep Apnea is for people who have or suspect that they have sleep apnea. It is also written for their bed partners, families, and friends, and for health care professionals involved in sleep apnea management.
This extensively revised and expanded fourth edition covers causes, diagnosis, treatment, and surgical techniques as well as the pros and cons of specific therapies.
Comments made have included:
Excellent Recent Overview: Honest and Direct. – Pascualy's book has been a big help in allowing me to navigate this new medical field in which I am now an unwilling participant.
Great Book. – I was recently diagnosed with having sleep apnea. This book is excellent and very informative for anyone who has sleep apnea and wants to learn all that they can about it.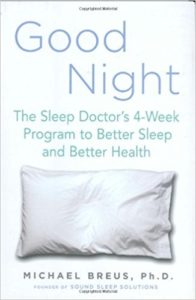 In Good Night, Dr. Michael Breus, Ph.D., the designated sleep expert on WebMD and co- founder of Sound Sleep LLC, outlines a program that shows you how to identify your sleep issues and what you can do about it.
Like no other book today, Good Night provides both a solution for you to solve your short-term sleeping problems—getting a good night's sleep tonight—and a 28-night program with the long-term tools that can help you lose weight, look younger, and find more energy every day.
You deserve to feel better about yourself and your life, and with this book, you have a plan to make it happen—starting tonight.
(Note This is more about general sleep habits.)

Reviews of this book have included:
The best and most comprehensive guide to sleep and wellness. – After more than 25 years of insomnia I've read my share of books on sleep and this is by far the best. Good Night covers all the basics of getting a good night sleep.
First Ever Review. – I have never reviewed any products before, but, this book and the 28 day program has helped me so much that I felt I had to. I want as many people to know this book is out there and can help everyone who needs it.
Leave a Comment