September 30th, 2010
Anti Snore Nose Vents Sleep Aid Device
#1 Snore Stopper By SleepPro™
(Fine Grade Silicone)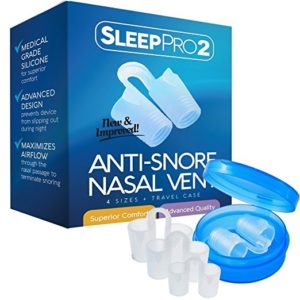 Supplier Claims that the "Anti Snore Nasal Vent" will:
INSTANTLY STOP SNORING – relieve snoring with the ultimate snoring solution – our proven and tested product is designed to maximize airflow through the nasal passage. Results: Stop Snoring Instantly!

HOW IT WORKS – A nasal dilator is a device intended to provide temporary relief from transient causes of breathing difficulties resulting from structural abnormalities and/or transient causes of nasal congestion associated with reduced nasal airflow. The device decreases airway resistance and increases nasal airflow.

COMFORT – Designed with medical grade silicone the most comfortable snoring solution on the market!

INVISIBLE – Invisible and to others – feel comfortable sleeping again!

FREE HYGINE CASE INCLUDED: Packaged in a reusable plastic case to keep the nose vents clean and free of dust. Also perfect to use as a travel case.
Reality is that as for all "Anti Snore" devices, works for some but not for all.
Users comments include: 79% 5 Star positive, 6% 1 star negative on product
By an Amazon Customer on June 18, 2017
As much as I hate to admit it I am a snorer and from what my husband says I am a very loud snorer! I have tried everything from chin straps to different kinds of pillows and nothing has ever worked! The first night I used the Snore Stopper Snore Vents my husband said I never snored at all he got to sleep throughout the night without me waking him up 20 times! This truly is a great product and it works! Definitely would recommend to anyone that snores..
By Annie E  on June 30, 2017
I snore bad. Really bad to the point I have sleep apnea. My daughter says I sound like a bear. I tried these to try to soften the sound of the bear in the house. They were comfortable, easy to use and my four year old daughter actually came looking for me because she said that she thought the bear left the house. I know that this will work on road trips with my girls and family on vacation.
By  Nancy Ron June 14, 2017
These work great! I have bought several of these before and they do exactly what they are supposed to. My daughter always complains about my snoring so she was glad when I purchased these. I actually feel like I get a good nights rest now that I started using these nose vents.
NEGATIVES – 6% of feedback
By Amazon Customeron August 9, 2017
>Did not work for me. Was uncomfortable but I would have gotten used to it if it had only stopped the snoring. Unfortunately it did not.
By Sophie on July 20, 2017
My breathing was worse when I put these in. I don't understand how they could possibly work unless your nasal passages are clogged Obviously I'm not going to return them because I've had them in my nose. UGH.
.
.