July 4th, 2011
The NeckPillow by Tempur-Pedic
The NeckPillow by Tempur-PedicTM is recommended for those who desire not only a better night's sleep but also need a more therapeutic sleep posture.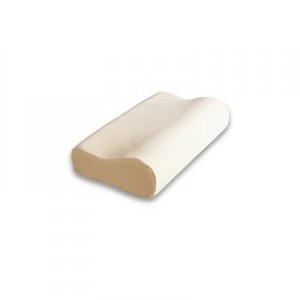 The dual-lobe design supports the curve created by your head, neck and shoulders to properly align your spine and give you a perfect night's sleep! It is important that you choose the proper pillow thickness based on your shoulder dimensions and sleeping position preference to promote an anatomically correct posture.
A pillow that forces your head too high or allows it to fall too far back not only places stress on your neck, but could inhibit breathing.
Size Chart Each pillow includes a 3-year limited mfg.warranty. While memory foam products come with many great benefits for your health, they also come with something else; a semi potent initial smell. When you first open your memory foam product you will notice that is has what appears to be a faint smell of gasoline.
This smell will naturally dissipate over time and is non-toxic. Once the smell has gone away, you will be able to experience all the benefits of having a memory foam product. Pillows and other comfort items are non-returnable and DO NOT have a tryout period.
CHECK OUT PRICING ON THE TEMPUR-PEDIC NECK PILLOW HERE
User Reviews on the TempurPedic Neck Pillow
"I've had my NeckPillow by Tempur-Pedic for years. It's still in great shape and is very comfortable. It's just such an unusual shape that it looks strange in a pillow case on the bed. I switched to a more traditionally-shaped pillow for that reason, but this one works great otherwise!"
"I used the sizing chart to pick the standard size and I should have got the large sized pillow instead of the standard. It is nice quality and the foam density is better than any of the less expensive foam pillows. The size is just to small for me. In my case the factory sizing chart did not work out. You can't send pillows back for exchange so make sure you get the right size."
"I have been using this pillow for what seems like at least 9 years (I really cant remember because I was really young at the time), ever since my mom bought it for me. I've never had neck pains, so I dont know why I switched to this. I can vaguely remember this pillow smelling bad for quite a while before the smell went away. But I've never had to change pillows and I got very comfortable using this pillow.
The good news/bad news is I cant use another pillow. I discovered this when I was sleeping over at a friends house and didnt bring my pillow. I had to use a standard pillow that I woke up with neck pain to. I thought it was just a one time thing, several times at home, I had the chance to sleep in several different standard pillows (a extra firm, a soft, and a firm) and I woke up each time with neck pain. Once, the neck pain lasted for 3 days. So when I slept on my tempurpedic pillow again, after a few days, the neck pain went away. Its like a drug now. If you carry smokes with you all the time, you should probably carry this with you on vacations.
I bought one for my girlfriend and she had a similar experience. When she started using it, it took her a while to get used to it. But once she did, she cant use another pillow."
"The neck pillow works well to ease neck pain which, for me, literally no longer exists. The side pillow is a better choice for me. My husband prefers the neck pillow.
Complaints: 1) The smell takes a long time to calm down. I called Tempurpedic and they said to roll the pillow a few times but this did not work. I had to put it outside in the gazebo for 15 days when the humidity was low and temps were in 50's. Each day I did the roll trick a few times. Finally, the smell did leave. Unfortunately, it returns periodically which I don't understand unless it is deteriorating. The mattress does this same thing. My husand and I both are bothered by the foam smell, even after 8 yrs use. To this day, there are days we have to open the bedroom windows to air the room out from the foam odor.
2) No matter what Tempurpedic claims, the material gets too hot from body heat. Tempurpedic comfort level causes me to stay in one position longer than an old-fashioned pillow. The pillow and mattress aborbs and holds body heat and sometimes I wake up feeling like I am baking. Moving to a different spot helps but when you have a husband beside you there are not many different spot choices. Plus, the product takes times to comform. In the winter, I like this. Not so much other times of the year. If I try to use chillow or a cold insert, the foam shaping doesn't happen and defeats the purpose of the pillow.
Overall, I would purchase the product again. The pain relief is worth the above problems. I do think the item should be lower priced, after all, how expensive is it to make memory foam."
"Recently I was on a road trip for vacation and of course I ALWAYS take my pillow with me. I have had it for 10 years and find I just sleep better with my Tempur-Pedic pillow. On day two of our ten day excursion I realized that I had left my pillow in the hotel room and we were already 200 miles down the road. I was VERY upset as there really was no going back. Luckily I am married to the best guy in the world who immediately said "well it was time for a new one anyway."
When we got to our second stop we found a Bed, Bath and Beyond store close by and I was able to purchase a new one on the spot. They also had fitted pillow cases and so I was back in business! What I really like is that the pillow comes in a box with a handy handle right on top so I was able to take it to each hotel room and having the box there reminded me to not leave without the pillow – what a great idea!
Now to the pillow. I have used one for over 10 years and really do sleep better with the neck support and swear by this pillow – it works. The first thing I noticed is that the new version is quite a bit lighter. However, that is not a bad thing as I found it just as comfortable. I have been using this new pillow for over a month now and really do love it and it works just as well as the older version. So far I have found that I prefer the lighter feel and It has held it shape nicely and I have no complaints. Yes, it had a slight smell the first day but after that I did not notice it at all. My old pillow was a bit harder in colder climates and sometimes I switched to a down pillow in the winter. I am not sure if it will be the same with this one as it is still summer.
Regarding this being a "hot" pillow. I live in AZ and have not found the old or new version to be hot at all so I am not sure what all the complaining is about. I always have a pillow case on my pillow and find it just fine to sleep with in the summer. Actually I find it a bit more comfortable to use in warmer weather as it appears to be more pliable. It will be interesting to see how the new version is in winter."
Check out Pricing on the "Tempur-Pedic Neck Pillow" here.