April 4th, 2011
Duro-Med Elevating Leg Rest Pillow
The Duro-Med Elevating Leg Rest provides the ultimate in comfort and support. This knee support or leg pillow when used as a leg rest enables the user to correctly position their body, gives knee pain relief, relieving stress and strain on the lower back and improving blood circulation whilst still being comfortable.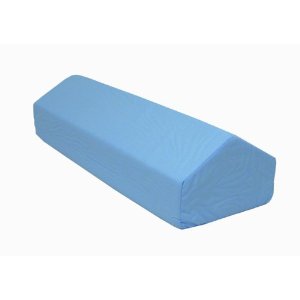 The dimensions are 17″L x 10″W x7″H. It's not as long as it seems to be in the pictures so before you buy get a tape measure and measure out how wide 17″ actually is, this is probably the biggest complaint from those who buy, that it is shorter than expected.
The Duro-Med Elevating Leg Rest fits under your knees while you lay on your back. Using the Leg Rest helps to maintain the spine's natural curvature, relieve stress on joints and diffuse pressure points. The Duro-Med Elevating Leg Rest reduces lower back pain by elevating the knees and allowing the lumbar (lower abdominal section of the torso) to flatten. The Duro-Med Elevating Leg Rest is also able to be used to increase comfort while lying in bed. Elevating the knees also helps with blood circulation.
A Duro-Med Elevating Leg Rest can be used with a back wedge such as the Duro-Med Bed Wedge to prevent sliding down the back wedge and to further enhance the benefits of both bed wedge pillows.
The dimensions are 17″Lx10″Wx7″H. The 17″ is wide enough that your legs don't fall off if you are awake, but a number of users have complained that they wish it were wider and that if they lean or roll to one side that their legs came off. A suggested solution was to buy one Duro-Med Elevating Leg Rest for each leg.
As one user stated "I like the height. It's perfect for me. The construction seems fine. It's like the three bears, it's JUST right. Not too hard & not too soft, not too short & not too tall. Of course, you could spend 5 times as much & get something made of memory foam, but I didn't see anything that looked like this anyway. For the price, it does the job. In fact, I bought two of them because I thought 34″ (2×17″) would be better."
Product Features of the
Duro-Med Elevating Leg Rest

according to the manufacturer
Machine washable cover
Helps reduce back pain
Designed for treatment of phlebitis or varicose veins
Elevates knees thereby allowing the lumbar to flatten
An excellent support for the reduction of circulatory problems, knee pains and low back pain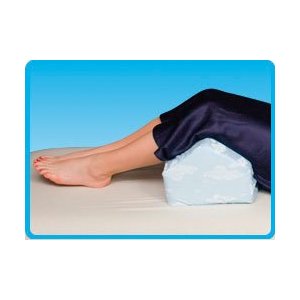 People who have bought and liked the Duro-Med Elevating Leg Rest said:
The foam is pretty firm but comfortable enough
using one for each leg works well
Was the perfect size and shape for a girl after spinal fusion surgery
Things that people did not like about the Duro-Med Elevating Leg Rest:
Many people complained that the Duro-Med Elevating Leg Rest was too small
Not useful when sleeping
More suited to a child or a bed bound person than an adult